volunteer opportunities
Throughout the year, the PTO sponsors events for which there are MANY opportunities to volunteer. Some are one-time events, including bake sales, the school directory, book fairs, the ice cream social, spaghetti dinner, lawn fete, and talent show. Others, like weekly packet assembly are ongoing. In addition to events, the PTO also has several standing committees that meet periodically through the year (click HERE to learn more about them!) We would love to have you on our team!

Be sure to sign up on Sign-Up Genius to get the latest volunteer opportunities, click on the below icon.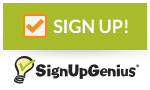 Why volunteer?Research shows
that when parents are involved in their children's education, kids are more likely to earn better grades, attend school regularly, have better social skills, have a positive attitude towards school, graduate and continue their education.
We understand that different families have different needs and obligations. We also believe that all involvement counts. There is a way for you to be involved that will fit your schedule and availability, whether it is before, during, or after school/work, a one-time hour commitment or a weekly commitment, helping at the annual Lawn Fete or baking a pie at night for the Election Day Bake Sale. Some parents or guardians might not have time, but can connect the school to local businesses that can support events and fundraisers through product, gift cards, and other donations, or they may give money themselves.
For more information about how you might help, please contact our volunteer coordinator Rebecca Bernier.
---
Current Volunteer Opportunities

Healthy Try-it Day: Our first Healthy Try-it day is Thursday, October 12 during the lunch hours. We are looking for a few volunteers to help out between 11:30 and 1:15 to help serve the kids Apple Kale Lemon Juice.

Close Buy/Genevieve's Catalog Sales:
Catalogs came home last week with packets for the Close Buy and Genevieve's sales. The sales period is from now through October 13. Close Buy offers some great unique gifts for the holidays and Genevieve's is great for holiday wrappings. Paper orders can be sent in with your child's folder with a check made out to NFS PTO. Online orders are super easy as well and give you an additional week to get your orders in, until October 20. Be sure to include our account number (#3208) with your online sales so we receive the credit. Sharing the link to Close Buy and Genevieve's is also a great way to extend the sales outside our NFS community.


Thursday Packets: Help assemble weekly packets on Thursday mornings (right after drop off in the morning) in the multipurpose room. Come once or as often as you can.